City of Harvey
Gateways and Streetscape Improvements
Design Concepts
The project team developed three Gateway and Streetscape design concepts and a Community Identifier for consideration. Please review the following alternative concepts and complete the survey to provide your input. A preferred concept will be developed based on results of the survey. Please refer back to this webpage for survey results and preferred concept recommendations.
Description
Option A
This concept features contemporary geometry in vertical and horizontal arrangements that can be applied to different site locations and constraints, and provides a progressive, modern image for the City of Harvey. The simple forms and clean lines frame and emphasize the Harvey Identifier and the "City of Harvey" text – these graphics will be illuminated with back-lit halo lighting or with a more conventional uplighting. The gateways will be constructed out of durable, available, and low maintenance materials and different colors and finishes will be used to identify each district or corridor. The Site Furnishings and Lighting selections compliment the clean and contemporary feel of the gateway signs and will be incorporated into the adjacent streetscape improvements.
Hit the -> arrow to move to the concept design
Concept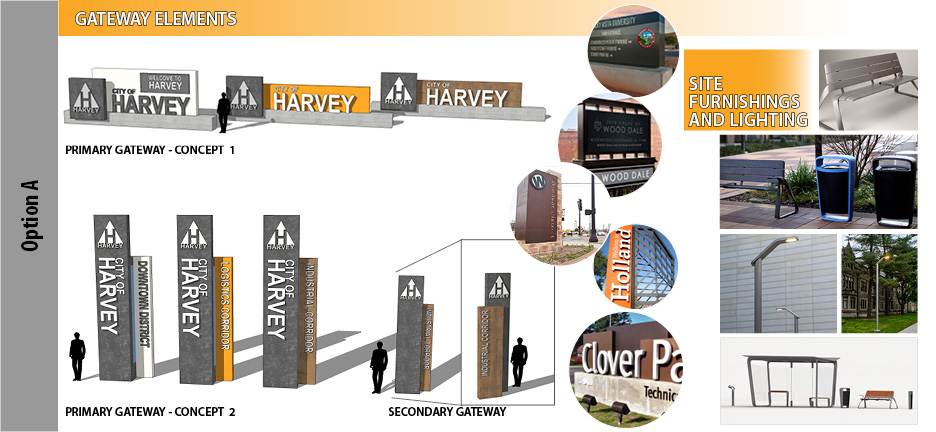 Description
Option B
Harvey is dedicated to growth through "Trucks, Trains, and Technology" as it is a Logistics Hub for the Midwest, home to world class businesses, unrivaled in transportation assets, and committed to being a leader in technology and logistics. The "Technology Forward" concept reflects these attributes in the Primary and Secondary Gateway concepts. The vertical structure of the primary gateway represents stylized railroad tracks and supports the sign and message board components. The blue color of the central column symbolizes the trucking industry, internal illumination will make this a very visible feature. The large electronic message board highlights the City's focus on technology, providing high quality graphics to promote Harvey's community events. The same design approach is applied to the smaller secondary gateways that will be located at select intermediate intersections throughout Harvey.
Concept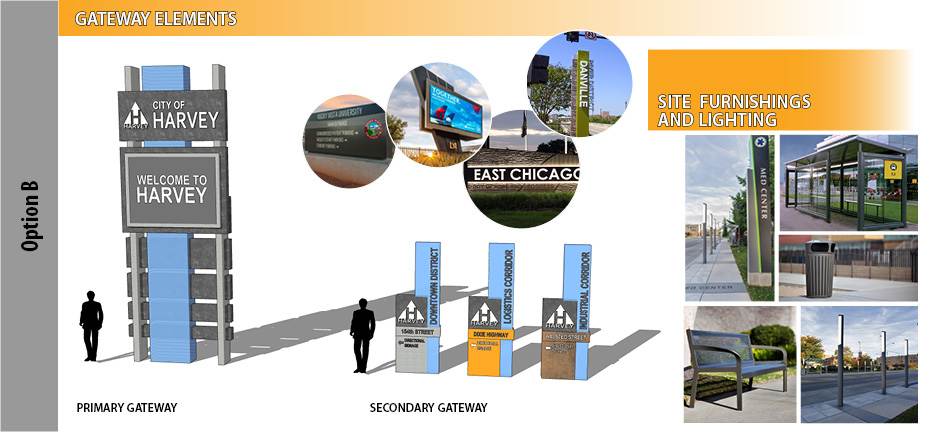 Description
Option C1, C2, C3
The "Progressive Historic" concepts take cues from Harvey's rich architectural history, incorporating the familiar forms and materials in a forward-thinking approach. Concept C1 draws inspiration from the current City Hall's geometry, while integrating the stone masonry from the Old City Hall. Concepts C2 and C3 integrate the round arch detail, which is prevalent in Harvey's historic buildings. The "City of Harvey" lettering is contained within the arch, leaving room on the exterior sign panels for the Harvey Identifier. Industrial materials are incorporated in the background sign structure and reference Harvey's industrial past, present, and future.
Concept